As calendrical subterfuge, Kubrick ends the Danny/Halloran interview with a date marker, the month is a Julian calendar moon period, time in The Shining will be exhibited by this phase's measurement, then days and later by hours; CLOSING DAY=Halloween (Ullman says their season runs to October 30th, a clever use of hidden identity for a day. All Hollow's Eve, is Halloween a day or a night?) then A MONTH LATER=November 30 or perhaps December 1, Kubrick is playing with our ability to follow both the nuances of hidden set distortions and these apparent lengths of time which are used repeatedly yet are strangely approximate, what is a month later? Halloween is the only anchor date the film utilizes in present day, and of course, we end on a date before this in actual time: July 4 1921.
Establish keeps VW Beetle in frame-center. Smoke pours from a chimney: evidence of fireplace, a mirror to the first cigarette-campfire in the Boulder apartment at wildly different scales but same apparent size optically. Absurdly a coyote howls offscreen, this is another initial scene reference, it's the other noise we couldn't hear offscreen on the Road Runner show: ingeniously compacting these two moments.


While Danny begins to explore hotel on tricycle, his loud wheels are silenced upon riding over Navajo rugs (silenced like the Beetle). Danny makes his presence known by making noise. These are his 'clouds', similar to the folds of clouds that ended the CLOSING DAY driving sequence: spirits are watching him. Navajo rugs are storytelling systems without alphabets in a language invented and woven by women. Danny, who has never toured the Colorado lounge previously in the film, explores the hotel from his lower vantage-parallax. Restless and curious. The initial floor he travels upon (and loops back to) is red, an extension of the blood he witnesses spilling onto the floor, Kubrick carefully inverts the Beetle's journey by painting a double line made out of reflected light onto the red surface and framing Danny right. Inversely, Danny speeds past the camera while Jack's Beetle was overtaken. Island-arrow-blanket forms replicate the movement of the island at film's beginning: it is the camera-eye-being that is travelling. The loop is unlike the car's journey, it is a continuum, and we watch it in between Wendy's obvious and unseen elevator trip.


Wendy also is vehicular: she wheels breakfast from the kitchen which appears to be located behind the Gold Ballroom, she exits from the left of the T-shaped entrance corridor. Later and earlier in the film we will notice a wall of B&W photos that seem to discredit this reverse view, Jack actually looks back at them later in the film. Final location of the film (the photo on wall), here is bordered by mirrors that later become Navajo rugs. These are memory animations, continuity disturbances. The Navajo rugs are mirrors. On the third floor she approaches from the elevator unseen in shot (the elevator scene has been coyly edited out, a suggestion it is a portal). The new view of the exterior of the apartment reveals a coffee machine, a machine that pours fluid, like the elevator, and mirrors her pouring coffee seconds later. Coffee machine also looks exactly like food dispensing machine aboard the Discovery in 2001, and it predicts thematically meals there and here. She carries a tray into the apartment where Jack sleeps (inside a mirror). She is dressed in same colors as the twins (a yellow blue plaid), and she pours his coffee: a visual taunt (pouring in a mirror), things that pour in the film red, brown, yellow. The spirit that followed us to the Hotel, appeared behind Ullman and formed in his hands, the eagle, appears on Jack's shirt now. Before Jack describes deja vu, he stares into mirror at camera (at the audience-not at himself), sticking his tongue out malevolently. House is suggesting there are now two Jacks. Jack first stares at us directly during interview and now through this mirror. In reverse, we re-establish we are outside the mirror: we can read "Stovington."

He dips bacon into yolk like french fries and ketchup. It continues yellow from last scene to next. I mean we've all had cases of déjà vu but this is ridiculous. Déjà Vu is a neurophenomenological event in which what has just happened has happened before. Jack who will later lose the ability to sleep, oversleeps (it's about 11:30). Wendy is offered sarcasm in reply to her positivist encouragement: Yup, that's all it is. Kubrick's dialogue is usually double-fisted, Jack's earlier sarcasm: he saw it on the television reminds us about Danny's first scene and it is the beginning of Jack's malevolance. Sarcasm is a tonal shift that alters the meaning of words to their opposites, a form of verbal mirroring: it looks the same on a page but it is not. Later in the film he keeps sarcastic tone but he actually does mean it: I'm just going to bash your brains in. The dissolve is to a typewriter accompanied by booming sounds. A cigarette burns but is not smoked like Wendy and Danny's first scene.
The eagle from his shirt is now the typewriter's logo (a thunderbird). We see the word Adler (German for eagle) below its symbol-form. This is a device that summarizes thoughts through qwerty-English storage. A device that encodes information for a culture linearly, manual - black and white. Instead of using the device, Jack throws a tennis ball against a wall. He's playing a version of the Mesoamerican ritual ballgame with a Navajo spirit-image. Ultimately Jack loses the ballgame, and is sacrificed. Both ballgame and Jack's clubbing on stairs occur in this same room, subtle refernces to Mesoamerican rituals of spirit absorption. Jack stands in right of split screen. A visual interview, the left side is indigenous: wind art, sand painting, chevrons; a continuity that extends directionally above and below. He is tossing his ball 'through' the buffalo head, against a sand painting, depicting Navajo mythic instructions to humans in the use of sacred arrows. These Arrow People are the upper deities of the Navajo, the highest gods are a council of four. Two couples, the women are the pair inside, the men outside in white. Wendy will later adopt a modern form of this sandpainting outfit when she wears her yellow western jacket. We have watched forms of Navajo encryption appear mirrored, arrow to portal to mirror - now this is shown. Kubrick is displaying with great economy how ideas and words are stored in Navajo through patterns, forms and finally narrative depiction. Notice the subtle equation of T-forms between fireplace and elevator bank. The right is European expansion/colonization diagram. Buffalo head, black and white images, piano, Tudor ceiling details, cutting off the upper and lower. Jack playing, or attempting penetration of this native storytelling form. The wooden wind art mirrors Jack's body-form in both views. The dissolve is torturously perfect matching planes of the interior floor and the exterior lawn. Wendy and Danny appear to be emerging from the fireplace, a portal. They approach the maze in reverse mirror to its introduction. Her chasing mimics Wile E. Coyote's manners. A guide-map covers our view of the entrance and shows us the maze at an off angle from its actual orientation and upright (a disorientation of two right angles). A "T" made visually.

Look carefully below there are two mazes, the model/map, which is the false yet real maze that we only see here, and then the SHINED maze, the view down with its langorous zoom and tiny specks of Danny and Wendy, an altogether different maze. It sure is bigger than I thought it was. Maze-model is animated as it cuts, a merge of the model with its shape pattern on the floor below, the arrows. Kubrick creates an improbable yet physical effect to prove the supernatural power of the indigenous spirits are more powerful than the builders of the structures. Again, he animates the 'real' maze the Hotel built into a conjured maze adding right angle distortions of right angles four-fold. What Danny and Wendy navigate is shined. What Jack sees is the unshined maze. The view of Jack approaching the maze shows us both the lobby's native floor arrow pattern and the strictly right angled English maze. This visionary blending forms (the spectral/shined maze) means this fusion is explained phenomenologically by the film's syntax and semantics. A key theme of the film is buried in the modification of the maze. Danny knows what Jack doesn't. The layout of the maze in multiple states. A mirrored side of the maze. This shows us without explanation how easily Jack will be trapped. The dissolve below between a paired Wendy and Danny and a singular Jack reinforces this potential, drawing Jack towards his future.



Jack is dissolved from the maze to one floor below the Navajo ballgame, sending the ball first down then finally towards the first hanging Navajo pattern seen in the film, the distant diamond blanket. Later he will appear framed inside it just before he enters the party. His throw is exact, he hits it squarely and then loses the ball. Ahead of him is a splitting-time tableaux. At the spot on the floor where Halloran will die sits Danny's tricycle, and to its left is a toy mirror to Halloran's body. Points both past and future. Notice the reverse shadow diamond shapes he stands above, a right-angle mirror to the blanket. Jack is self confined to a limited number of rooms for the duration of the film and never leaves the interior except to hunt Danny at film's end. Jack stares down into maze model (an overlook) and instead sees a vision. He looks down and sees shined complexity 'outside.' Outside, from far above, we are shown the only optical effect shot of the film, the vision view from the sky downwards. The patterns of the floor enter the maze and warp it, adding complex 45 degree angles animating and enlarging the form. Jack is in effect, like the audience; both spend the film witnessing overlapping forms that create meaning. Here, the vision, a blending between two forms, actually occurs in one shot. In Jack's vision Wendy and Danny appear to walk atop a flattened Mayan temple, linking this image to other sequences (see below). It shows them 'on' the temple form's sacrificial altar, a prediction later usurped by Wendy's bat-wielding reverse-climb. Like the disorienting guide map that covers the entrance and shifts the maze's entrance from in front of us to the right of the screen, we see an overlook now, further distorting our awareness of the entrance and the source of our perception. By cutting from Jack's gaze downward, to a view clearly not of the previous model, he is inserting a conscious paradox, an uneasy shift. A disorientation. Although the film is littered with subtle optical shifts (dimmers are employed to keep footcandle exposures appearing unnaturally even in deep distances), this overlook special effect is a momentary equation with 2001 where almost every sequence uses some form of miniature, gravity distortion or front/animation stand projection.

Wendy and Danny experience the cognizance of the maze, while Jack is shown only a vision overlook, providing him with a poor learning tool when attempting to conquer the maze and Danny simultaneously. The maze's center is made from doubled arch-dome insets, an extended mirror of Room 237's bathroom. It even includes a bathtub space behind an arch, above left. Above right, Wendy and Danny walk out of wall-forms later seen in ceramic green.

Hedge maze is a continuation of the road up mountain. It is an English form (many details of the house are of English origin) borrowed from ancient narrative symbols and myths, and requires subordination of nature - it is a symbol of control.

Jack's later transfixing view outside window at snowdrift and family is the animation from this view. His gaze drops earthward and will continue to degrade in power: he freezes finally dead in maze then transforms into the final shot inside a photo. Jack is accessing his ability to freeze. He wears black and is bathed in white light suggesting his approaching final color pallete.




TUESDAY is shown at edge of dusk. Twilight. With kitchen evolving, Wendy in blue unleashes a food service sized yellow, as the TV (newscaster mirror of Wendy's blue) offers impending snow and the "missing wife" news, which hides the actual murder of a wife from the audience just as Jack will soon attempt. Weatherman wears yellow. No power cord is apparent on the TV, and it lacks "rabbit ears" VHF antenna, necessary for it to receive a signal from as far away as Denver, though Kubrick shows us the TV's UHF antenna as proof it needs them. The TV is shined. Shelly Duvall appears to be reprising her role as Millie in Robert Altman's 1977 film 3 Women. 3 Women's complexity stems from its ghostlike female leads who both inhabit one another and stand abjectly outside the mainstream youth culture of the era. Millie's central set piece is a meal composed of the most synthetic foodstuffs of the American marketplace.
A new carpet pattern emerges, one that combines ideas found in previous patterns: the maze, Navajo/Colorado Indian forms and the Mayan k'an symbol. It is an infinity pattern weaving forms the way the stargate projections operated in 2001, extensions of inner consciousness (the 'aliens' duplicate the reflections on Bowman's helmet to transform his/our view). Here they are evolutions of scale and language. Danny will later relate to these forms with vehicles scaling-down in order (from tricycle to die-cast toys).

Having evolved past his inital exploratory loop, Danny nears 237 and sees its mirroring doors. His hands, though resting on handlebars, also rest on knob shapes the carpet's patterns make. Two door knobs. He turns the right knob, both proving to us it is locked and it 'turns the hotel on', activating the process of absorbing. Danny is using the Hotel to absorb his abusive father - he actively pursues this despite (or because) having visions of blood and dismemberment of girls his own age and being told by Halloran repeatedly to stay out. Multiple references to cartoons suggest this might even be wordlessly comical despite the film's genre predicts fear-curiosity instead of intent-purpose. Danny appears scared, but only because the audience has built-in expectations of his actions and causality. Humor from paradox. The girls are smiling slightly.


Jack begins his obsessive nocturnal typing, and is visited by his wife, who is haloed by a spectre-like band of wall that rises. His angle is framed by another of the red elevator masks and it shifts behind him in accumulating camera angles (there will be a total of three elevator faces in the Colorado Lounge). The chair's symmetric knob forms seem to be beading upwards as if the chair's, and occupant's motion, is downwards (Jack will later fall to the ground, be dragged, and be framed from below in the dry storage locker: animating into the downward mirror). The knob shapes of previous hallway scene has followed us here, now it's right side up (the desk lamp) and turns the entire desk into a subtle door-shaped hint. Jack's outburst is capped by the near-cryptic admission he's existing in different time-spans: "...it will then take me time to get back to where I was. Do you understand?" Kubrick drops in the last part as a taunt to the audience. After his outburst and (yellow) paper shredding, black and white typewriter is magically ready to type again: as Wendy departs a new piece of paper is magically primed. Kubrick assures us these are not continuity errors we are spotting by accentuating the audio of the manual type writer, the shift button thud is loud and clear. We are simply in the mirror of this view ("back to where I was"), study carefully the two distinct background framings for Jack. Wendy's weird halo and supremely clear countenance is otherworldy, moon-like, completely centered. Don't forget Jack is in a trance world similar to Danny's. His son's is a visual trance, he travels through TV's and mirrors, Jack is in a trance made of typed words that repeat: think about what his is really typing and hiding from his wife.



Wendy and Danny (in red and blue against white) run in snow towards hotel as Jack looks upon them from within. THURSDAY title indicates snowfall has lasted two days (they say it's going to snow tomorrow from TUESDAY). This slow zoom in is the reverse of the previous establishing of Jack's tennis ball manners. He stands transfixed, the room bathed in gray light, with only the burning fire as a locus of warmth. Imitating the picture he ends inside, Jack stares at his family from a different conception of time, a different dimension. He is dying. Wind-art form that was on central table is gone and the fire replaces it in exact scale and placement. An animation of forms. This bowed head, raised eyes stance is a Kubrick knowledge glyph. Facing down looking forward. Other Kubrick anti-heroes, Alex, Leonard (Pvt Pyle), Bowman, Bill Harford also display this, now Jack succumbs to this interior imbalancing. We might label this facement Eyes Wide Shut. Alex (A Clockwork Orange) wears a false upper eyelash on his lower right eye which is the only real give-away: he 'hangs it up" on his mirror before slumbering. Crucially there is a neurological rationale for this which will be explained in the final part. The question is, what does Jack see in this shining, his eyes move slightly up as if he's leaving the trance, notice he has a bright spot on his forehead that mimics his first dissolve to Danny's bathroom scene.



Snow covers VW Beetle's presence in Hotel's establishing shot and Wendy appears in Western yellow jacket with Navajo patterning across it. Discovering her communication system dead, she uses the radio to call the U.S. Forest Service where a U.S. flag is subtly mirrored into the wood. Mimicking HAL's 2001 prediction of antenna failure, radio scene provides evidence of outside world, a Federal oversight of territorial control (like the men that gate-keep the space program). She and forest radio operator have tree forms on their jackets, embleming that appears in 2001. Kubrick showcases various forms of communication (verbal in-person, line, wave transmission, television) as suggestion we have yet to explore the nether reaches of contact. The hotel is about to contact Danny again without visible technology.



Danny rides his tricycle to confront paired Grady daughters. Intercutting moves us from observers into users of Danny's sight (as in earlier dart scene). If we use his vision properly we can see they're not mirrors, they're doubles. He 'physically' sees now what he viewed in his vision of corridor earlier. A connection in time in our past: they have been axe-killed in a jump cut while standing there. The axe Jack will be using later appears here, displayed with the girls' bodies like a coat-of arms. Interim shots of girls (below) shows them atop a pyramid front Mesoamerican temple made of brown and blue made in perspective, converting this scene into a ritual retold visually. As with intercuts of the first elevator shot, the girls' blood splashing connects to that initial appearance, a connection of both action and color. Their pairing above his head is eeirily similar to the salt and pepper shakers above Wendy during her introduction scene.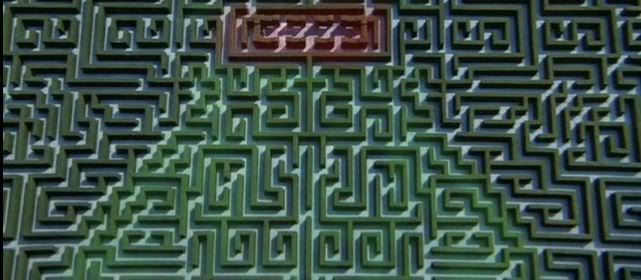 The temple form: first a lure to Jack then a warning to Danny. The maze with Danny and Wendy and the floor that leads to the two girls, first living then ritually slaughtered. Image of temple in maze found by Johnny53.